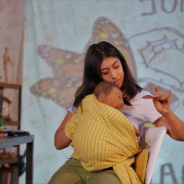 2021-2022 Virtual National Tour: Dreamers
BASED ON THE BOOK BY YUYI MORALES,
adapted by ricky araiza
This show is bilingual! ¡Este programa es bilingüe!
A physically poetic adaptation of Yuyi Morales' story that tells of resilience, hope and the courage it takes to find one's voice when navigating a new place. Dreamers honors the passion, strength, and hope that is born from the challenges experienced in an immigrant's journey and reminds us that, "Someday we will become something we haven't even yet imagined."
Directed by Ricky Araiza
Featuring Anya Hernandez (one-person performance)
Illustrated by Yuyi Morales
In association with Teatro Bravo
Recommended for Grades K-6
For information about booking Dreamers contact: sk@holdenarts.org
For additional PRODUCTION materials or information, contact:
For additional MARKETING materials or information, contact:
Please credit all photos downloaded from below as "Courtesy of Childsplay Theatre and Jordan Gilliam."
FOR PROMOTIONAL TRAILER FILE, PLEASE CLICK HERE to download from a Hightail folder.
FOR THE FULL VIDEO OF THE PRODUCTION AND WORKSHOP, please contact Holden Arts at sk@holdenarts.org.
Educational Materials
Production Materials