Childsplay performs at the Herberger Theater Center in downtown Phoenix
Where is the Herberger located?
The Herberger Theater Center is located at 222 East Monroe Street in downtown Phoenix.
Box Office Hours:
Monday through Friday, 10am-5pm
Saturday and Sunday, 12-5pm
The Box Office opens one hour prior to performance time and 30 minutes prior to shows held in The Kax Stage.
Phone (602) 252-8497
Box Office Fax (602) 258-9481
Where will you perform at the Herberger?
The majority of Childsplay's season is performed on Stage West, a 325-seat theatre. Some productions are performed on Center Stage, a beautiful 800-seat theater.
Stage West @ The Herberger Theater Center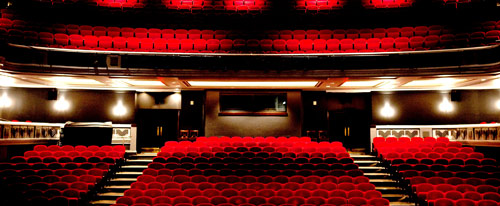 Center Stage @ The Herberger Theater Center
What is the price of tickets?
Ticket prices range from $13-$45. All tickets are subject to Herberger Box Office fees. Our Flex Ticket packages are the best way to get the best seats at a discounted ticket price with less box office fees.
General Directions to the Herberger Theater Center:
The Herberger Theater is located between Van Buren and Monroe Streets and 2nd and 3rd Streets. If you are coming from the East Valley, take I-10 west to 7th Street, 7th Street south to Monroe and Monroe west to 3rd Street. If you are coming from the West Valley, take I-10 east to 7th Avenue, 7th Avenue south to Roosevelt, Roosevelt east to 2nd Street, and 2nd Street south to the theater located between Van Buren and Monroe. Please be aware that some streets may be blocked or closed due to construction. For the most up-to-the-minute road closures and access routes, please CLICK HERE.
Parking Information:
Nearby public parking facilities include the Chase Garage (enter from 1st or 2nd Streets between Monroe and Van Buren), Arizona Center Parking Garage (enter from 5th Street heading north from Van Buren or off of Fillmore west of 5th Street), and the Hyatt Garage (enter off 2nd Street just north of Adams and south of Monroe). CLICK HERE to download a parking map with pricing details.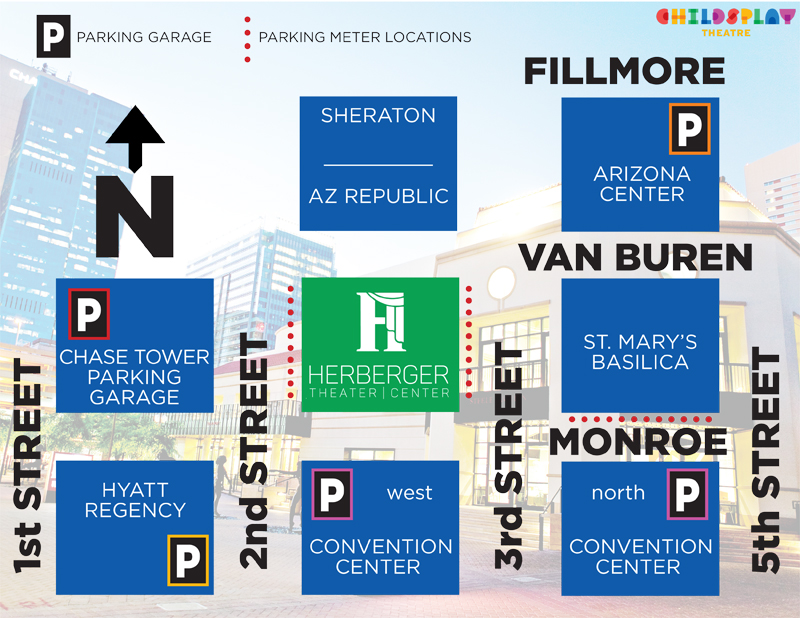 Discounted Parking Information:
The Herberger Theater Center offers discounted parking at The Arizona Center Parking Garage, which is located a short walk away from the theater at 5th Street & Fillmore. The parking pass will give you $6 parking, valid Monday-Friday from 5pm – 4am and all day on Saturday and Sunday. You can purchase a pass from the box office when you arrive at the theater. You will not need the parking validation pass until you exit the garage.
Parking Meters:
Surface street metered parking is available along Monroe Street, 2nd Street and 3rd Street. Meter hours are 8:00am to 10:00pm Monday through Sunday, including holidays.
Light Rail:
The Herberger Theater is located just TWO blocks from two different light rail stops – less than a five-minute walk! To reach the Herberger Theater, you'll exit the Light Rail at the Central/Van Buren stop OR the Washington/3rd Street stop. For a map of Light Rail as it comes through downtown Phoenix, CLICK HERE.
Accessible Services for Patrons:
The Herberger Theater Center strives to be accessible to all patrons. Request special services when purchasing tickets or arriving at the theater. Infra-red assistive listening headsets are available in the lobby. Childsplay also provides performances with ASL-interpretation for the hearing impaired. Call the Box Office for dates and performance times.
Theater Accessibility Features:
Ramps provide easy access to theater seating
Accessible seating is available in all price ranges
Infrared provides audio amplification
Service dogs are welcome
Childsplay provides American Sign Language-interpretation performances once during each run of a show