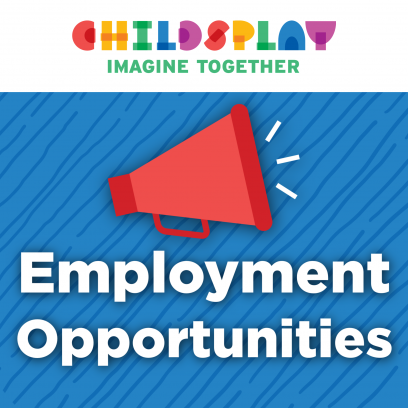 Employment
Childsplay is continually searching for the most creative, happy, and intelligent individuals to join its team!
Childsplay values equity, diversity, and inclusion throughout our organization, programs, and audiences. We are committed to giving underrepresented artists a safe space to create art and community. By welcoming people with differences in religion, ethnicity, sexual orientation, class, gender, ability, and age we are better able to celebrate that which brings humankind together: imagination and wonder.
THE FOLLOWING OPENINGS ARE AVAILABLE:
Summer 2023 Teaching Staff & Teen Interns
Childsplay's Academy will be accepting applications for Summer Teaching Artists, Teen Interns, Directors, Assistant Teachers, Assistant Directors, Choreographers, and Music Directors starting February 1st. We will be sending offers starting in February and applications will be open as long as there is still availability. Summer Camps start in May and go through July. Click below to for applications:
Paint Charge Artist
The Paint Charge Artist will oversee the paint treatments of all scenic elements on all mainstage and touring productions. The Scenic Charge will oversee the scenic artist over hire and other relevant staff/interns in a safe and proper usage of paint tools, techniques, and materials. Click HERE for info on how to apply. We will be accepting applications the position is filled.
Master Electrician
Childsplay, Arizona's professional theatre for young audiences, is seeking a Master Electrician for their 2021-2022 season. We produce 6 productions on the mainstage, 1 to 2 national tours, and 1 to 2 local state tours per year. Click HERE for info on how to apply. We will be accepting applications the position is filled.
Teaching Artists & Assistant Teachers
Childsplay seeks creative, innovative and qualified theater teaching artists and assistant teachers for part-time employment in a variety of educational programs. Applications are accepted on an ongoing basis and employment is based on departmental need. Click HERE for more information.
Production Department - General
Over hire production staff. Please be sure to state your area of experience (i.e., carpentry, electrics, rigging, wardrobe, etc.)
Guest Artists/Designers
Please include production shots, if available.
Administration
Semester internships are available in Marketing, Development, and Education.
To Apply
Please send resume and cover letter to info@childsplayaz.org unless a specific contact is provided in the application description.
Childsplay, Inc. is an equal opportunity employer, and will not discriminate against any employee or applicant on the basis of age, race, color, religion, national origin, physical or mental disability, sexual orientation, or marital status.