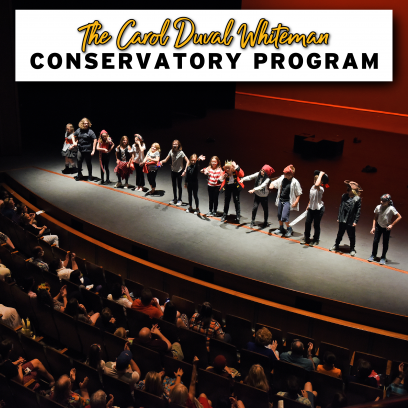 Conservatory
CLICK HERE FOR FALL 2023 SHOWCASE INFO
Conservatory is a progressive program of study for students who are interested in developing more advanced acting skills.
Academy Mission: Harnessing‌ ‌the‌ ‌transformative‌ ‌power‌ ‌of‌ ‌theatre,‌ ‌Childsplay Theatre Academy ‌create‌s ‌education‌ ‌programs‌ ‌that‌ ‌center‌ ‌young‌ ‌people‌ ‌in‌ ‌the‌ ‌process‌ ‌of‌ ‌artistic‌ ‌discovery‌ ‌and‌ ‌courageous‌ ‌empathy.‌
Students must be nominated from a current Childsplay Class to participate in Conservatory OR students must audition. If you're interested in auditioning for the program, please contact Academy Manager Brianna Fallon at bfallon@childsplayaz.org or call or text: (480) 359-1494
There are five levels of Conservatory. Each level is made up of two semesters of study in the Fall and Spring which may be taken in any order.
All Conservatory students participate in an evening Showcase at the end of each semester.
Childsplay continues to research the best practices to make classes safe for students and faculty and will revise Health and Safety Plan as needed.
---
Fall Conservatory 2023
Fall Dates: Aug 19 - Dec 2 (No Class 9/2, 10/7, 11/11, or 11/25)
Showcase: Saturday, December 9th at ASU Galvin Playhouse
(Payment plans available)
Acting Conservatory
Conservatory Level 1.....9:30 AM - 11:30am $465

Conservatory Level 2.....9:30 AM - 12:00pm $510


Conservatory Level 3-5..9:30 AM - 12:30pm $560
Musical Theatre Conservatory
Conservatory Level 1.....9:30 AM - 12:00pm $510
Conservatory Level 2.....9:30 AM - 12:00pm $510
Conservatory Level 3-5.. 9:30 AM - 12:30pm $560
---
Spring Conservatory 2024
Spring Dates: February 3rd - May 5th (no class 3/16 or 4/27)
Showcase: Sunday, May 5th at the Tempe Center for the Arts
(Payment plans available)
Acting Conservatory
Conservatory Level 1.....9:30 AM - 11:30am $465

Conservatory Level 2.....9:30 AM - 12:00pm $510


Conservatory Level 3-5..9:30 AM - 12:30pm $560
Musical Theatre Conservatory
Conservatory Level 1.....9:30 AM - 12:00pm $510
Conservatory Level 2.....9:30 AM - 12:00pm $510
Conservatory Level 3-5.. 9:30 AM - 12:30pm $560