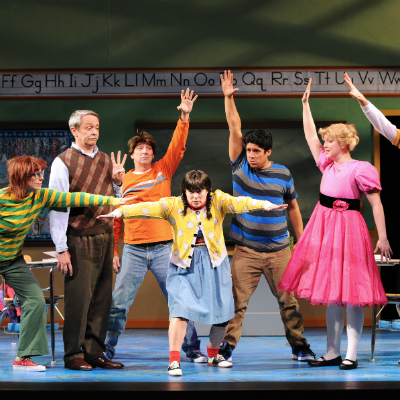 Groups (10+ People)
The more the merrier! Enjoy the benefits of coming to a performance with a group:
Discounted Prices
Groups of 10-19 people receive a discounted rate of $25 per ticket, which is 30% off the best seats in the house! Groups of 20+ receive a discounted rate of $21 per ticket, which is more than 40% off the best seats in the house! The more you play, the more you save!
No Service Fee
That's right! We waive the service fee per ticket when you order your group tickets directly through Childsplay. Service fees for single tickets range from $4 to $7.50 PER TICKET!
Personal Customer Service
All group purchases are handled by Childsplay's group sales staff.
Want to make your day extra special? Ask about adding a backstage tour to your experience for only $5 per person!
To book a group, please fill out the form below:
*Are you a non-profit or want to buy out a performance for your group? For certain size groups, we may be able to offer an even greater discount! When filling out the form below, please be sure to mention this in the additional information section!*
*Storybook Preview performances (the first performance of every show) are not valid for group sales discounts. Because of a generous grant from The Steele Foundation, the ticket price is only $13 (plus box office fees). Please call the box office to purchase these tickets. Storybook Preview performances are general admission so specific seats cannot be reserved. Group sales can only be made M-F, from 9am to 5pm, during Childsplay's business hours.
Have more questions? Contact agutierrez@childsplayaz.org or info@childsplayaz.org.