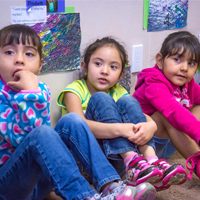 Community Impact
Arts Learning in the Community
Creative learners are better learners. As Arizona's leader in arts education programming, Childsplay has placed creativity at the center of education for 36 years. In the past decade, the organization's specific in-classroom education programs connected to curriculum have transformed the academic experience for thousands of Arizona students, with a direct, measurable impact on student achievement scores and teacher efficacy across subject areas, including reading, writing, science and math.
It's All in the Numbers
Since 1977, Childsplay has performed for more than 4 million young people, and impacted the lives and educations of thousands more with in classroom programming.
Childsplay's Drama Frames program was tested through a United States Arts in Education Model Development and Dissemination grant from the U.S. Department of Education. Research was designed and conducted by Arizona Prevention Resource Center (APRC) through Arizona State University. APRC led a multi-year experimental-based study with Childsplay and the Washington Elementary School District. Some of the results from this model are included below.
Six Traits of Writing Scores
An assessment of district-mandated writing samples was used to compare pre and post scores among Childsplay intervention and comparison schools. With a scale ranging from zero - six for each of the Six Traits of Writing, the intervention schools showed nearly a one point increase, while the comparison schools showed negligible increases and/or small decreases in scores:
"I have a learning disabled student who is not normally in the class for reading and writing. He was so excited after doing one of the activities that he wrote an entire page. He came to show me, wanting me to read it, and to tell me that it was the most he had "ever" written. That was a great moment." – 2010 Teacher Pre/Post Survey Comment
88% of teachers thought using drama to teach writing skill to ELL students was effective vs. 38.4% at the beginning of the year, a 56.4% increase. – 2010 Teacher Pre/Post Survey
92% of teachers were comfortable using experiential learning (students up on their feet, being active) at the post survey compared to 76.9% at the beginning of the year. Just 54.6% of comparison group teachers were comfortable using experiential learning at the end of the year. – 2010 Teacher Pre/Post Survey