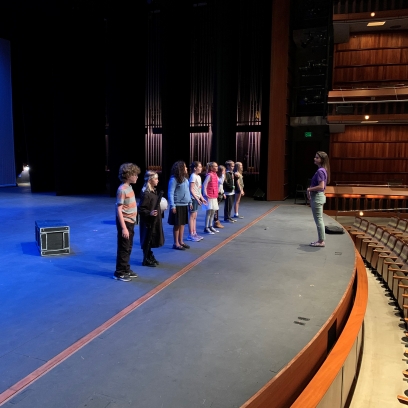 On Stage Classes at the TCA
Take center stage with these skill-intensive performance classes! Students will refine acting skills through the process of auditioning, rehearsing, and performing in a full-length musical. Each production is directed by profressional actors, directors, and choreographers straight off the Childsplay stage. If you're looking for a chance to shine in the spotlight and work on your acting technique, then this is the class for you! The first two weeks of rehearsals are on our main campus (CIW) and the last week is at the Tempe Center for the Arts (TCA).
Students interested in design may join a stagecraft class and make the theatrical magic for the production.
Times: 9:30-3:30pm
Tuition Starts at: $399
Extended Care:
Childsplay offers extended care, before & after classes, for students in full-day classes.
MORNING Extended Care: 7:30am - 9:30am: $30/wk.
AFTERNOON Extended Care: 3:30pm - 6:00pm: $40/wk
BOTH SESSIONS of Extended Care: $60 per week
View All Classes Returning Student New Student SUMMER ACADEMY FAQ