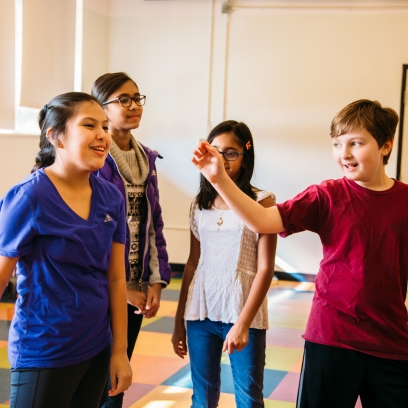 In Person Theme Classes for ages 8-12
On campus classes subject to change as we monitor regulation updates
Lessons for this age combine theatre skill instruction with exploration of a story or theme. The week culminates with an informal sharing of material created by the students during the week. Classes accommodate a variety of skill levels and students do not need previous drama experience to succeed in and enjoy this course.
Tuition Starts at: $219
Times: 9:30-3:30pm
Extended Care:
Childsplay offers extended care, before & after classes, for students in full-day classes.
MORNING Extended Care: 7:30am - 9:30am: $30/wk.
AFTERNOON Extended Care: 3:30pm - 6:00pm: $40/wk
BOTH SESSIONS of Extended Care: $60 per week
View All Classes Returning Student New Student Summeer Academy FAQ
Hogwarts Summer School (In-Person)
7/13/2020 - 7/17/2020
Advance your wizardry skills through the magic of drama! (Ages 8-12)


Build-a-World: Escape Room (In Person)
7/20/2020 - 7/24/2020
Transform the classroom into a mystery to solve with secrets to uncover. (Ages 8-12)


The Land of Descendants (In Person)
7/27/2020 - 7/31/2020
Students create characters and craft their exploits for a new generation of fairy tales. (Ages 8-12)