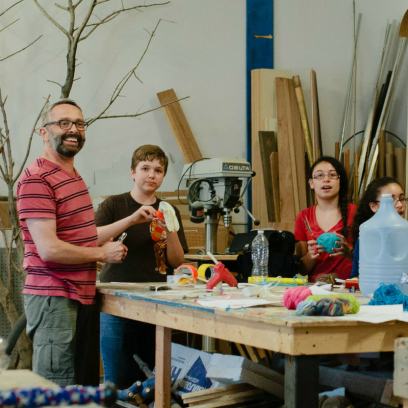 Stagecraft and Design: Technical Theatre Production
Stagecraft and Design classes are taught by professional technical theatre artists.
The three week design classes collaborate with a performance class and stagecraft students participate in the design and technical theatre process from imagination to implementation. Participants will have behind the scene access and opportunity to interact with professional designers and technicians.
Space is limited to seven participants in this class and due to the unique challenges of each production, student responsibilities may vary.
Childsplay offers extended care, before and after classes, for students enrolled in full-day classes. You may select which session(s) you would like to purchase on registration calendar.
MORNING SESSION: 7:30am - 9:30am: $25/wk.; AFTERNOON SESSION: 3:30pm - 6:00pm: $35/wk.; BOTH SESSIONS: $50 per week
Returning Student New Student SUMMER ACADEMY FAQ
Stagecraft and Design: Singin' in the Rain
6/3/2019 - 6/21/2019
Design and create the theatrical magic for the Broadway musical which will perform at the Tempe Center for the Arts (ages 12-17).

Stagecraft and Design: As You Like It
6/24/2019 - 7/19/2019
Bring Shakespeare's comedy of mistaken identity and disguise to the stage through designing, constructing and implementing technical theatre elements for the production. (ages 12-17)


Theatre Intensive: Stagecraft and Design (One Week)
7/29/2019 - 8/2/2019
New one week design class. Discover how technical theatre designers contribute to the artistry of a production and practice creating theatrical designs. (ages 10-15)