Jeff began acting when he was 6-years-old, and didn't
stop until he quit cold-turkey at age 30. Since then, he
has continued working in nonprofit, looking for new ways
to bring creativity and beauty into the world and make an
impact. For the first time in nearly two decades, he is
going to take the stage one more time to raise funds
for Childsplay, the theatre company he called home for years.
For one-night only, Jeff Goodman will be performing
Double Threat, a concert of songs that inspire him and help
tell his story. Join us at the Herberger Theater Center on
February 18 for a night of song and (…well, just songs) to
support world-class theatre experiences for kids of all ages.
February 18, 2022 at the Herberger Theatre Center (map)
Featuring Mark Fearey, musical director, on piano!
6:00 pm: Enjoy a glass of wine and a snack on the Herberger patio.
7:00 pm: Curtain Up in the Herberger Theatre's Stage West
8:15: VIP Ticket Holder's reception
Be a Double Threat VIP - $100
VIP tickets include priority seating, a signed poster, and a wine reception after the performance.
General Admission - $75
So, you're not a VIP. You're still special, just seated a little further back (it's a small theatre.)
Can't Make It
***Please include DOUBLE THREAT in the memo box!
Poster art by Max Dalton. VIP ticket holders receive a commemorative poster at the show.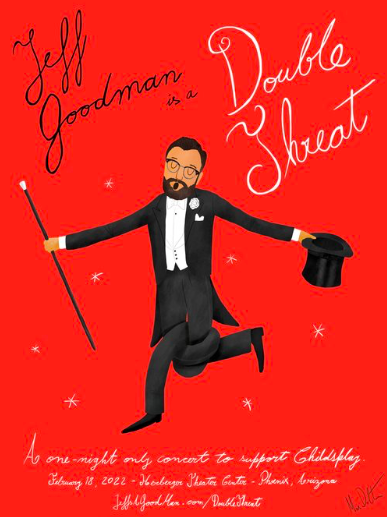 Some of Jeff's favorite shows in his time at Childsplay included Still Life with Iris (Mozart),
And Then They Came for Me, Perô or the Mystery of the Night (Perô), Eric & Elliot (Eric), and Schoolhouse Rock Live.