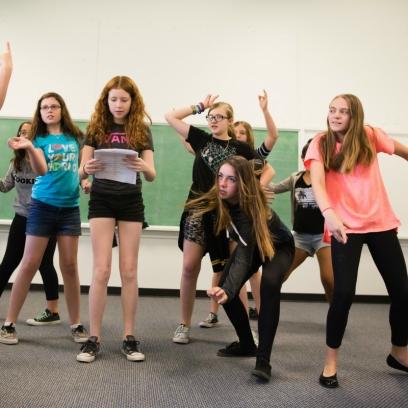 Conservatory - Fall 2018
Conservatory is a progressive program of study for students who are interested in developing more advanced acting skills.
There are two ways to be eligible for participation in Conservatory.
Recommendation from a Childsplay teaching artist based on positive attitude and theatrical aptitude demonstrated in an academy class. Nominated students are informed by letter and no audition is necessary.
Students may also audition to be a part of Conservatory. Auditions for Fall 2018 Conservatory will be held on Saturday, August 25th. Please contact Kathryn Brantley at kbrantley@childsplayaz.org to schedule an audition time.
There are five levels of Conservatory. Each level is made up of two semesters of study in the Fall and Spring which may be taken in any order.
All Conservatory students participate in an evening Showcase at the end of each semester.
Fall Conservatory begins Saturday September 8th and continues through December 15th, 2018 (No class on October 13th or November 24th).
Conservatory Showcase will be Wednesday, December 19th at 7pm on the Herberger Theater Center. Students need to be available from 4-9pm on that day.
Acting Conservatory
Conservatory Level 1A: 9:30am- 11:30am $450 ($400 before July 1st)
Conservatory Level 2A: 9:30am- 12:00pm $500 ($450 before July 1st)
Conservatory Level 3A, 4A, 5A: 9:30am- 12:30pm $550 ($500 before July 1st)
Musical Theatre Conservatory
Conservatory Level 1A: 9:30am- 12:00pm $500 ($450 before July 1st)
Conservatory Level 2A: 9:30am- 12:00pm $500 ($450 before July 1st)
Conservatory level 3A: 9:30am- 12:30pm $500 ($450 before July 1st)
Want to learn more about what your kids are learning in Conservatory? Get the inside scoop from our Academy Kid Reporter, Alexander!: