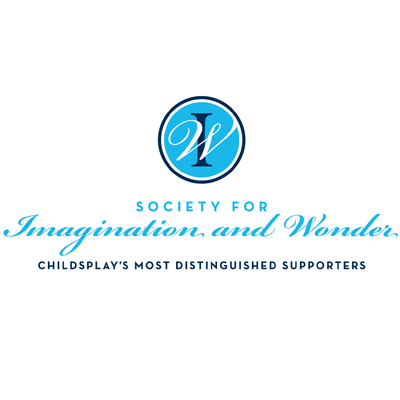 Society for Imagination and Wonder
The Society for Imagination and Wonder has been created on behalf of Arizona's young people - the future leaders of our community - and to ensure that many more will join Childsplay's important family of contributors.
Membership in the Society is extended to individuals, foundations, and companies who contribute $1,200 or more annually and to those who have made gifts of $20,000 or more cumulatively over any time period. Learn More >
In appreciation of their generous support, Members will be proudly saluted in the following ways:
Invitation to an annual "Members Only" recognition event
Invitation to an annual reception where community leaders acknowledge and honor special efforts of Members
Listing in appropriate membership category of the Society for Imagination and Wonder in Childsplay's annual newsletters and in its Playbills.
Lifetime Members of the Society will be permanently recognized on a commemorative recognition display at the Herberger Theater Center.
Questions?
Contact Ernesto Ortiz at EOrtiz@childsplayaz.org or 480-921-5762.
THE SOCIETY FOR IMAGINATION & WONDER
Society for Imagination and Wonder Lifetime Members
*Indicates Annual Society Membership as well.
Visionary - $2,000,000 and above
Sybil B. Harrington Trust
Virginia G. Piper Charitable Trust*
Transformer - $1,000,000 and above
City of Tempe*
US Department of Education
Innovator - $500,000 and above
Arizona Commission on the Arts*
The Kemper and Ethel Marley Foundation
Flinn Foundation*
Shubert Foundation*
Target
The Steele Foundation
Energizer - $250,000 and above
American Airlines
APS*
BHHS Legacy Foundation*
Shelley Cohn and Mollie C. Trivers*
Carol Critchfield Foundation
Carol DuVal Whiteman
Doris Duke Charitable Foundation
Helios Education Foundation
J.W. Kieckhefer Foundation*
Margaret T. Morris Foundation
Nina Mason Pulliam Charitable Trust
Phoenix Office of Arts and Culture
Salt River Project*
Billie Jo Herberger*
Thunderbirds Charities
Wells Fargo Bank
Originator - $100,000 and above
American Express
Arizona Community Foundation*
Arizona Republic*
The Boeing Company
Joanie Flatt*
Freeport-McMoRan Copper and Gold
Giggling Gwen Foundation, in loving memory of Gwen Van Kirk*
Anonymous
Lisa and William Hobson*
Michael Flatt
National Endowment for the Arts*
Scottsdale Arts*
The Hearst Foundation
Theatre Communications Group
Whiteman Foundation
Pioneer - $50,000 and above
Alliance Bank of Arizona
Anonymous*
John Back and Diane Haas*
Roxana and Dean Bacon
Banner Health, Cardon Children's Medical Center
Blue Cross Blue Shield of Arizona
CBS 5 AZ KPHO
CALA Alliance
Child Abuse Prevention License Plate Program
Eliot Spalding Foundation*
LeRoy and Kate Ellison
Ardie and Stephen Evans*
Susan and Rich Goldsmith*
Hazel Hare
JP Morgan Chase
Kelly and Raymond Leppien
Lewis Roca Rothgerber Christie LLP*
Dr. Cheryl Mandala*
Maricopa Partnership for Arts and Culture
Mercy Care
Neavitt/Thomas Endowment Fund*
Dan O'Neill and Jenny Lucier
Linda Pulaski*
Caleb Reese*
David and Sonja Saar*
Carol and Randy Schilling
Snell & Wilmer*
Ann Stanton and Bob Haddock*
Tim Thomason
Developer - $35,000 and above
Rebecca R. Akins*
Barbara and John Bebbling
Marcia and Matthew Benjamin*
Susan Brekke
Jim and Julie Copenhaver
Leslie Dashew and Jack Salisbury*
Dora and Louis Fox Charitable Trust*
The Dorrance Family Foundation
Fennemore Craig
Fiesta Bowl Charities
Friends of Tempe Center for the Arts*
Jane A. and Alan G. Lehman Foundation
James and Debra Larson*
Alan Longfellow
Ann and Fred Lynn
Macy's Foundation
Steve Martin*
Anonymous*
Karen Majestic Powell and Bill Powell
Nelson Ross*
Scottsdale League for the Arts
Thrivent Financial*
Twiford Foundation
Promoter - $20,000 and above
Arizona Diamondbacks Foundation
Katherine Badrick and Sharad Desai*
Bank of Arizona
Trevor Barger
Daron and Ron Barness Family Foundation
Amy and Travis Beeman*
Jenice and John Benton
BMO Harris Bank
Carstens Family Funds
City of Peoria
Claude and Susan Case
Casino Arizona & Talking Stick Resort
Cox Charities
Creative Capital Foundation/MAP Fund
Betty Drake
Ellis Education Fund / Arizona Community Foundation
Tim and Susie Ernst*
Christine Ewing*
First Things First
Gail Fisher and Mel Kessler
David L. Kest and Robert "Sandy" Chamberlain
Catherine Foley
Gaylord and Erika Gagnon*
Gesner-Johnson Family Foundation
Glendale Arts Commission*
Dwayne Hartford*
Drs. Jeanne Hokin Wills and J. Robert Wills
Lisa Coulter Hyland and Timothy Hyland*
Nathan Joseph*
KPMG LLP
Lynne Lagarde and Robert Stankus*
Sally and Richard Lehmann
Stephanie Machen
Maricopa County
Laurie McWeeney
Medtronic Foundation
Mary Ann Miller
Jenny Millinger
Myra Millinger
Molly Blank Fund*
National Bank of Arizona
Phoenix Suns Charities
Resolution Copper
Norman and Pam Saba
C. Angus Schaal
Scottsdale Insurance Company/Nationwide Insurance Foundation
The Stocker Foundation
Nancy and Michael Stone
Elden Strahm
Nancy Swortzell
Betsy True and Dan Bloomfield*
Tucson-Pima Arts Council
Rosenlund Family Foundation
Jennifer and Mike Van Kirk
Keith and Debra Wells
WESTAF
Rick and Vicki Williams
Lin and Jim Wright
Society for Imagination and Wonder Annual Members
Adventurer - $5,000 and above
APS
Arizona Commission on the Arts
Arizona Community Foundation
Arizona Republic
BHHS Legacy Foundation
Billie Jo Herberger
City of Tempe
Katherine Badrick and Sharad Desai
Marcia and Matthew Benjamin
Shelley Cohn and Mollie C. Trivers
Leslie Dashew and Jack Salisbury
Ingrid Ellis, in memory of Thomas Gordon Bossung
Joanie Flatt
Flinn Foundation
Dora and Louis Fox Charitable Trust
Friends of Tempe Center for the Arts
Giggling Gwen Foundation, in loving memory of Gwen Van Kirk
Glendale Arts Commission
Susan and Rich Goldsmith
J.W. Kieckhefer Foundation
Dr. Cheryl Mandala
Molly Blank Fund
National Endowment for the Arts
Neavitt/Thomas Endowment Fund
Caleb Reese
Salt River Project
Scottsdale Arts
Shubert Foundation
The Alanko Family Foundation
Thrivent Financial
Betsy True and Dan Bloomfield
Virginia G. Piper Charitable Trust
Explorer - $2,500 and above
Amy and Travis Beeman
Eliot Spalding Foundation
Ardie and Steve Evans
Jeffrey Breck Guldner
Lisa and William Hobson
Wendy Feldman Kerr
Lewis Roca Rothgerber Christie LLP
Linda Reidenbach
Nelson Ross
Snell & Wilmer
Joey Trahan
Storyteller - $1,000 and above
Rebecca R. Akins
AtLee Family Foundation
John Back and Diane Haas
Cynthia and Rob Baker
Jill and David Bray
Tim and Susie Ernst
Christine Ewing
Michele and Matthew Feeney
Ronda Fisk
Gaylord and Erika Gagnon
Dr. Charles and Laurie Goldstein
Dwayne Hartford
Shirley Hawley and Bill Blair
Hon-Dah Resort Casino
Lisa Coulter Hyland and Timothy Hyland
Kurt and Kate Janson
David Jazo
Nathan Joseph
Joy E. Kranzusch
Lynne Lagarde and Robert Stankus
James and Debra Larson
Philip and Ellen Leavitt
Kelly and Raymond Leppien
Jane Martin
Steve Martin