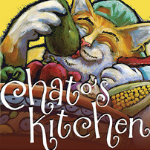 2022-2023 National Tour: Chato's Kitchen
BY MARK VALDEZ, BASED ON THE BOOK BY GARY SOTO
Gary Soto's hilarious book comes to life in this charming new play about Chato, the coolest low-riding cat in the barrio. When a famiy of ratoncitos, little mice, moves in next door, Chato invites them over for dinner. What they don't know is that they are on the menu! But things don't go quite as planned for Chato. The mice bring a surprise guest of their own who may be more than this cool cat can swallow.
CHATO'S KITCHEN - co-commissioned and world premiere presented at New Jersey Performing Arts Center (Newark, NJ) and Childsplay, Inc. (Tempe, AZ).
For information about booking Chato's Kitchen contact:
For additional PRODUCTION materials or information, contact:
For additional MARKETING materials or information, contact:
Please credit all photos downloaded from below as "Courtesy of Childsplay Theatre, Tim Trumble Photo."
FOR TRAILER, PLEASE CLICK HERE to download.
Educational Materials
Production Materials
Marketing Materials