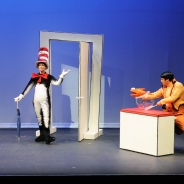 2016-2017 National Tour: The Cat in the Hat
For information about booking The Cat in the Hat, contact: sk@holdenarts.org
For additional PRODUCTION materials or information, contact:
Rachel Solis at rsolis@childsplayaz.org
For additional MARKETING materials or information, contact:
Samantha Johnstone at sjohnstone@childsplayaz.org
DOWNLOAD HIGH-RES PHOTOS/ILLUSTRATIONS >

*Please credit all photos downloaded from below as "Tim Trumble Photo, Childsplay (Tempe, AZ)"
ABOUT THE SHOW:
From the moment his tall, red-and-white-striped hat appears at their door, Sally and her brother know that the Cat in the Hat is the most mischievous cat they will ever meet. Suddenly the rainy afternoon is transformed by the Cat and his antics. Will their house ever be the same? Can the kids clean up before mom comes home? With some tricks (and a fish) and Thing Two and Thing One, with the Cat in The Hat, the fun's never done!
Most enjoyed for young people age three and older. School Audiences: Grades PreK-Grade 4
Curricular Connections:
Six Pillars of Character, Rhyming, Physical Comedy, Imagination, Play, Literacy
Educational Materials
Production Materials
Marketing Materials