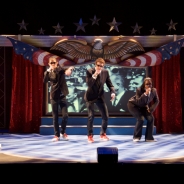 2016-2017 National Tour: Rock The Presidents
For information about booking Rock The Presidents, contact: sk@holdenarts.org
For additional PRODUCTION materials or information, contact:
Rachel Solis at rsolis@childsplayaz.org
For additional MARKETING materials or information, contact:
Samantha Johnstone at sjohnstone@childsplayaz.org

*Please credit all photos downloaded from below as "Heather Hill Photo, Childsplay (Tempe, AZ)"
ABOUT THE SHOW:
Childsplay's smash-hit musical about the presidents of the United States is back by popular demand! Gearing up for the election season, this high-energy multi-media extravaganza takes a non-partisan look at what it means to be president. From George Washington to Barack Obama, the 44 men who rose to the highest office in the land are brought to life through rock, pop and folk music.
Most enjoyed for young people ages 7 and older. School Audiences: Grades 3-8
Length of show: 60 minutes
Educational Materials
Production Materials
Marketing Materials