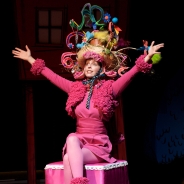 2017-2018 National Tour: Go, Dog. Go!
For information about booking Go, Dog. Go!, contact: sk@holdenarts.org
For additional PRODUCTION materials or information, contact:
Rachel Solis at rsolis@childsplayaz.org
For additional MARKETING materials or information, contact:
Samantha Johnstone at sjohnstone@childsplayaz.org
DOWNLOAD HIGH-RES PHOTOS, BOOK ILLUSTRATIONS and MUSIC FILES>
*Please credit all photos downloaded as "Tim Trumble Photo, Childsplay (Tempe, AZ)"
ABOUT THE SHOW:
Go, Dog. Go! brings the adventures of P.D. Eastman's book to life in a frolicking musical dog party. The cast of this beloved preschool favorite has gone to the dogs—with cars, hats, a moonlit boat ride, and even a wild game of ball—as this hilarious visual spectacle manages to sneak in some important lessons about life between innings. Go, Dog. Go! is a musical romp full of surprises, color, clowning, vaudeville, singing/barking, and of course, six lovable dogs! Most enjoyed for young people age three and older. School Audiences: Grades PreK-Grade 2
Connections to Common Core Standards:
LITERACY — Reading: Literature (CCSS.ELA-LITERACY.RL.K-2.7): Describe the relationship between illustrations and the story in which they appear.
21st CENTURY LEARNING — Social and Cross-Cultural Skills (K-12): Interact effectively with others; know when it is appropriate to listen and when to speak.
S.T.E.A.M. — Mathematical Practice: Counting & Cardinality (CCSS.MATH.CONTENT.K.CC.B.5): Count to answer "how many?" questions about as many as 20 things arranged in a line, a rectangular array, or a circle, or as many as 10 things in a scattered configuration; given a number from 1-20, count out that many objects.
Educational Materials
Production Materials
Marketing Materials